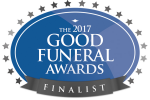 South Leicestershire Memorial Park & Crematorium are delighted to announce that after our recent nomination for a National Award as the 'Best Crematorium in the UK' we have just had news to inform us we have been shortlisted as a finalist into the elite few in this category. The Awards are held annually by the Good Funeral Guide and are recognised as the flagship awards ceremony in our industry. We are naturally very excited and truly humbled to be receiving a nomination for the awards which are largely made by members of the public.
These awards are seen by many as the 'Oscars of the Funeral Trade' and this year the awards will be held at a glittering lunchtime ceremony in central London on 7th September.
The Good Funeral Guide said: "Since 2012 we've been recognising the great work of the country's best gravediggers, embalmers and funeral directors. The awards ceremony is a bridge between the general public and the much-misunderstood funeral industry. We've championed the entrepreneurs, pioneers and progressives. Our winners have gone on to make media appearances and dispel some of the myths around what happens when we die. We listen to the general public and get their views on the standard of customer service. We collate their views, offer them to the judges for verification, and then draw up a list of nominees. Winning a Good Funeral Award is a sign that the public can come to you and enjoy the high-quality service they deserve".
The Award nomination comes as one of many received in multiple categories by Memoria and demonstrates the recognition of our ethos of providing exceptional standards of service and facility to the bereaved families.
Memoria CEO Howard Hodgson said: "We are delighted to receive this nomination in one of the most prestigious awards within the industry. At Memoria, we always judge our success by the levels of our client's satisfaction rather than by our levels of profit because we firmly believe the first leads to the second. Therefore, to be nominated as the 'Best Crematorium in the UK' is testament not only to the hard work of our dedicated staff but also to the opinion of our clients who really appreciate the professional people we have working for us and recognise that our teams strive to offer exceptional service to bereaved families at the time they need it most".